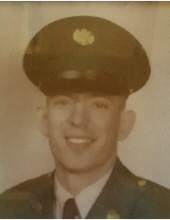 Obituary for Lloyd Leadingham
Mr. Lloyd Leadingham, age 77, of Lilburn, Georgia, formerly of Olive Hill, Kentucky, passed away Sunday, October 1, 2017, at the Brookdale Assisted Living in Georgia.

He was born June 4, 1940, in Grahn, Kentucky, a son of the late Mackie Leadingham and Nellie Brown Leadingham Porter.

Lloyd worked for many years for Gulf Oil Company and later for Ivan Alan Office Supplies. He was a quiet and gentle person who was loved by many and he will be greatly missed.

In addition to his parents he was preceded in death by two brothers, Gomez Leadingham and James Leadingham; four sisters, Berleda Stevens, Glenna Evans, Donna Owens and Shelia Kiser; five brothers-in-law, Tommy Craycraft, Kenny Stevens, Gene Evans, Jim Lemon and Bill Mosier; and two sisters-in-law, Marcella Leadingham and Barbara Leadingham.

Lloyd is survived by his wife of 46 years, Gail Hyde Leadingham; one daughter, Allison Leadingham; one son, David Leadingham; six sisters and three brothers-in-law, Alberta Craycraft, Alice Kegley (Rod), Sharon Frazier (Don), Connie Lemon, Rita Roe (Clifford) and Vickie Mosier; and two brothers-in-law, George Kiser and Don Owens. He also leaves many other family members and friends who will sadly miss him.

A Celebration of Life service will be held at 3 p.m. Saturday, October 7, 2017 at Globe Funeral Chapel in Olive Hill, Kentucky with the family officiating. Burial will follow in the Biggs Hill Cemetery in Carter County, Kentucky.

Friends may visit from 1 p.m. to 3 p.m. Saturday, October 7, 2017 at Globe Funeral Chapel, 17277 West US Highway 60, Olive Hill, Kentucky 41164.